17 Reasons Why Only One Man Can Win Egypt's Election
Egyptians are getting ready to vote Monday, but it is already clear to many that military man Abdel Fattah el-Sisi will be the next president.
1. A lot of Egyptians can't help but feel that in this year&8217;s election, there is only one option for President.
Ads for Sisi (and only Sisi) line a main Cairo highway. Little sign of second candidate Hamdeen Sabahy. Egypt
4. While Sisi has given several televised speeches and appears almost daily on the front pages of Egyptian newspapers, his rival, Sabahi is often relegated to the sidelines.
Stringer / Reuters
Egypt presidential elections 2014
9. "There is this idea that if you don&8217;t vote Sisi you are against the army, and therefore pro-terrorist," said Fatima Iskander, a 37-year-old mother of two in Cairo.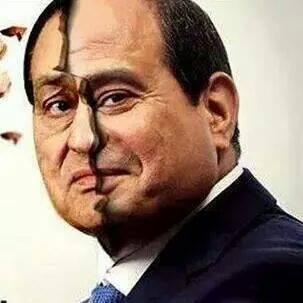 صباح &x62D;م&x627;&x645;و @Hamamou Follow
Vote for Mubarak Egypt Egyptian_elections
11. Egyptians say they worried they are voting in another leader who will try to rule indefinitely.
Mohamed Abdelfattah @mfatta7 Follow
Sisi vs. Youth as portrayed by an Egyptian graffiti artist
17. U.S. and E.U. officials have expressed hope that these elections will be &8220;free and democratic.&8221; But in recent days they have been forced to admit that might not be the case.
Asmaa Waguih / Reuters
Department of State deputy spokeswoman Marie Harf told reporters last week that U.S. officials have noticed a "shrinking space for dialogue, for peaceful protest, for freedom of the press" in #Egypt just days ahead of the country's second presidential elections in as many years.
Read more: http://buzzfeed.com/sheerafrenkel/17-reasons-people-why-only-one-man-can-win-egypts-election
---