People Are Turning Michelle Obama's #BringBackOurGirls Pic Into An Anti-Drone Campaign
Many ask: What about child victims of U.S. drone strikes?
instagram.com
2. The backlash came swiftly, with Twitter users calling out the administration's policy of using #drones around the world.

Zaid Benjamin @zaidbenjamin Follow
في اي أزمة. هل تقف مع المبدأ ام تحاول مناقشته؟
Shame Michelle Obama isn't also rightly 'outraged' when her husband kills girls with his drones. #DroneStrikes
#MichelleObama #Obama #drones #USA #BringBackOurGirls
Peaceful Animal @PeacefulAnimal Follow
200 Pakistani Children Killed By Drones
10. This image shows a picture of Abdulrahman al-Awlaki, a 16-year-old U.S. citizen killed in a drone strike in Yemen.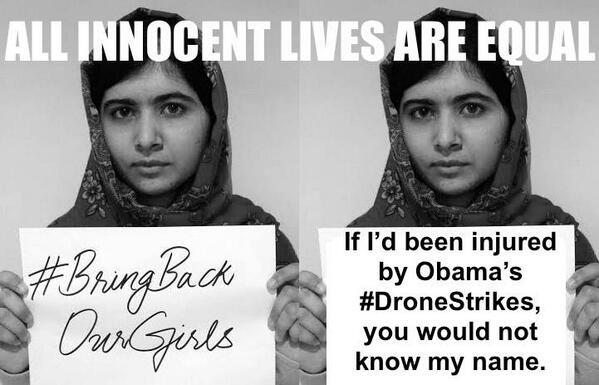 Daniel_Puljic @Daniel_Gooner24 Follow
#BringBackOurGirls #MalalaYousafzai #drones
LINK
buzzfeed.com
Read more: http://buzzfeed.com/miriamelder/people-are-turning-michelle-obamas-bringbackourgirls-pic-int
---